New Mi-Jack Travelift Crane Adds Efficiency & Safety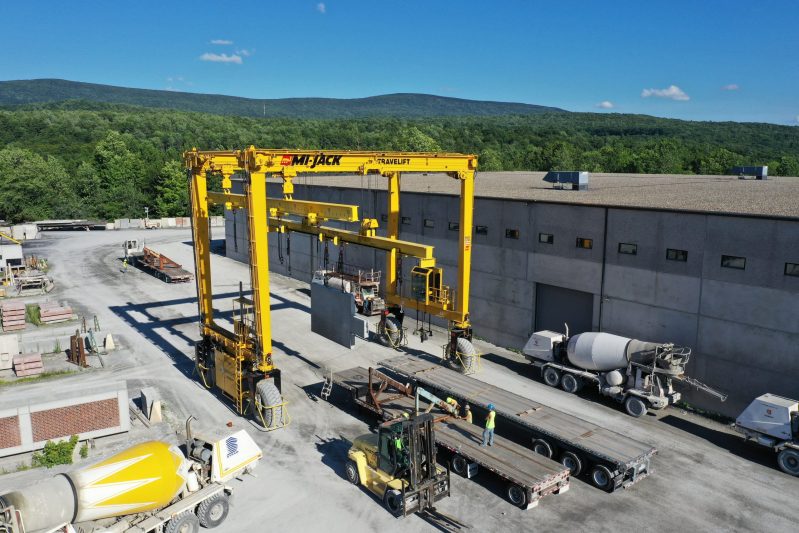 Dailey Precast recently put a new MJ85HD crane into service. Nicknamed Zeus, the crane is a massive 45'-9 tall and 50'-5" wide and features a custom main beam designed in-house. The sixty-foot beam was designed by Nailong Wei and fabricated by Bill Perry.
Zeus was designed specifically for safely and efficiently rendering panels, using a main hoist and auxiliary hoist to rotate the panel while it is suspended in air. Specially trained Dailey operators use this crane to move the giant precast concrete panels and load them onto trailers for transportation to project sites.
The crane has multiple steer modes and four-wheel steering, which allow for easier and more controlled operation. For example, the crane can drive in "crab mode" at a 45 degree angle or in "circle mode" all wheels can turn in a circle, so the crane can do a complete 360 degree turn in its own footprint. Additionally, the wheels can turn 90 degrees, allowing the crane to travel transversely and maneuver tight areas with a 24' wheelbase or be set to drive and steer independently. These different options make it possible to move this significant piece of equipment throughout the precast storage yard.
This powerful addition to Dailey Precast's crane fleet features a tier four Cummins engine producing up to 260HP, while keeping fuel consumption and emissions to a minimum. The crane is capable of lifting 85 tons and uses a power-on-demand system to control the engine output. The system senses hydraulic pressure to determine the minimum amount of power required to complete the task. In addition to using less fuel, the engine also utilizes a DEF system to drastically reduce emissions. ­­
Additional features include:
Cameras to improve the safety of the crane by allowing the operator to rely less on the ground crew for guidance
An anemometer that provides a constant monitor of wind speed which allows the operator to monitor wind speed for safe operation
Air conditioning to allow for comfortable operation and a cleaner environment for both the operator and the electronic components in the cab